MISSION (goals & objectives)

Our first goal is to preserve the physical edifice of the "historic" landmark, Carter Barron Amphitheatre located in the heart of our city at 16th & Kennedy Streets NW. This objective became a reality, after the Friends secured the lobbying support of the Honorable David A. Catania in FY'02 in celebration of the Amphitheatre's 50th year anniversary.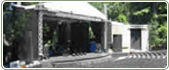 Finally, the second and arguably most important goal, is the Friends' effort to expand art educational initiatives that serve District of Columbia gifted and talented low-income children and youth, interested to purse careers in the performing arts work sector.

BACKGROUND
The Friends of Carter Barron Foundation of the Performing Arts (Friends) acquired its incorporation status in the District of Columbia on July 17, 1991.
In addition, the Internal Revenue Service (IRS) sanctioned the Friends organization, as a 501©3 on March 16, 1992.
Lead by an active group of boards, since 1994, has been recognized for its Academic Remediation Services & Technical Computer Graphics Summer offerings and its comprehensive and structured integrating performing Arts Educational Semester-based program designs that continue to improve academic, basic work readiness, and performing art career competencies of District of Columbia children and youth, defined as our under-represented low-income gifted and talented young population.
The district agency, the Department of Employment Services served to enable the Friends transit from an annual summer to a year-round community-based service provider.
Today, the Friends remain the District's only Performing Arts workforce contractor integrating school-based (academics) and work-based (performing arts) curriculums during the after-school time training hours for low-income area youth, as they earn apprentice and intern work experiences in their selected performing arts career choice.
GOVERING BOARD OF DIRECTORS
Gloria J. Hightower, President/Co-founder Emeritus
James J. Jackson, Attorney
George B. Abrams, Treasurer, CPA
Junior Linloy Cox, Finance Chairman
Brian Dickens, At-large Member
Lenwood Johnson, At-Large Member
Laurent Ross, At-Large Member
Honorary Advisory Members
Lillian J. Huff, Ward 8 Citizen
Susan Kidd, Ward 4 Anchorperson
Roberta McLeod, Curator
Eric Grant, Public Relations, Director at the Washington Post
Willey Jolley - International Motivational Speaker & Professional Artist
Arthur C. Morre - International Architect
At-Large Advisors

Paul M. Washington, Ward 5 Citizen
Shirley B. Dabney, Health Educator
Charles R. Hicks, President AFSCME DC 20
Omar Abdul-Malik, Ward 3 Citizen
Peter C. Wolk, Center for Non-Profit Law
Ernest P. White, Emeritus Advisor