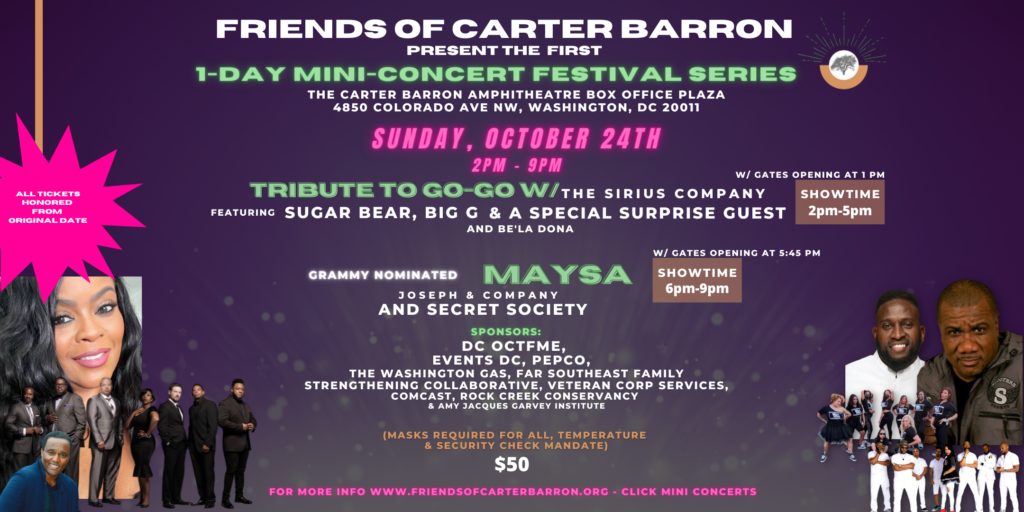 In the wake of gun violence in the nation's capital the Friends of Carter Barron Foundation for the Performing Arts (Friends Group) presents its first ever Mini-Concert Public Awareness Campaign and Youth Gun Violence Series.
The reopening efforts of the National Park Service and the Friends Group for the Carter Barron Amphitheatre effects the ecosystem of our very communities.
The restoration and reopening of this national treasure creates the opportunity for our youth to resume programming and discovery of career opportunities at this treasured landmark.
***JOIN US FOR GO-GO AND JAZZ-HIP HOP AT THE CARTER BARRON***
Where: The Carter Barron Amphitheater Box Office Plaza
4850 Colorado Avenue N.W.
(WMATA metro and bus accessible)
It's HAPPENING on
October 24, 2021

Ticketing information:
250  TICKETS ONLY
Online Ticketing:
Printed paper ticket must be present.
TICKETS ON SALE NOW
All ticket holders from original date (Oct. 1 & 2) will be honored
Small folding chair, sealed bottle water, and pre-packaged food are welcomed only
By purchasing tickets for this event you are agreeing to the following Friends of Carter Barron COVID-19 & Safety policies:
1) Masks properly worn, covering nose and mouth required
2) Temperature Checks at COVID -17 check point
3) Security Check Mandate