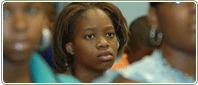 Program Qualifications

The majority of our young participants are selected through our referral agency, the Department of Employment Services, as subsidized enrollees. At DOES, youth either sign-up for the Friends Performing Arts year-round or Technical or Performing Arts independent summer programs.
In addition, an enrollee must select one of the Friends performing arts or computer graphic, as their career interest or choice. Subsidized youth are reviewed for:
low-income eligibility,

ages 18-24
must reside in the District of Columbia,
as well as enrolled in a public school setting.