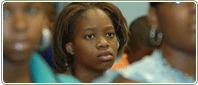 Youth Enrollment

It remains the goal of the Friends of Carter Barron Foundation of the Performing Arts to recruit through the district agency, the Department of Employment Services, Office of Youth Programs to ensure that each selected candidates meet the following criteria:
federal/poverty income guidelines

reside in the District of Columbia

selected or express a career interest in the Performing or Computer Arts Occupations

enrolled in a public/charter/private local school.
The aforementioned guidelines ensures that youth acquire stipends throughout the secondary training years with our organization, as they undergo intense and individualized academic, work-readiness/life management and occupational proficiencies.
The majority of our young participants are selected through our referral agency, the Department of Employment Services, as subsidized enrollees.
See DOES Program Requirements.
Other enrolled youth, are titled as non-subsidized. The enrollment fees for the year-round training is three thousand ($3K) dollars, or one thousand $1K for each semester-based program design. The eligibility is only based on ages, 14-18 and enrolled in a school setting.
However, parent(s) / guardian(s) can earn discounts up to two hundred ($200) or five hundred ($500) dollars. These discounts are achieved under the following enrollment conditions:
when two semester-based programs are paid upfront (before the start of the program) within the same year, the summer program becomes reduced by $500

or an upfront payment for the summer authorizes a $200 reduction for enrollment.